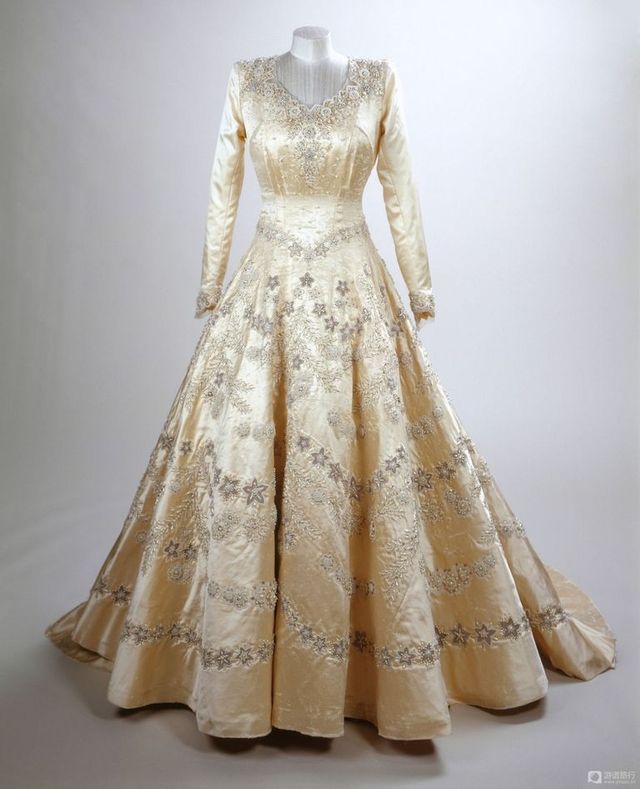 Most people are fascinated by celebrity and royal weddings. We just blogged on Jennifer Lopez's wedding last week. With the passing of England's matriarch, it's fun to take a look at Queen Elizabeth's wedding to Prince Philip in 1947.
What's the difference between the Queen's and Ms. Lopez's wedding? For one, the Queen spent less on her gown (above) than did Ms. Lopez. If you recall, Jennifer Lopez had three gowns made for her big day compared to but one for the Queen.
Ms. Lopez spent more than a million dollars PER gown (about $3.5 million in total) on gowns alone. Her husband, Ben Affleck, probably paid for it out of petty cash. By contrast, in 1947 Great Britain still imposed rationing due to the rough post war economy, so Elizabeth had to pay for her gown using clothing rations. Hundreds of her future subjects sent their ration coupons to help her pay for the gown, but she returned them.
Nonetheless, the gown was fit for a queen. Designed by Sir Norman Hartnell, it featured a 15 foot silk tulle full court train. He decorated it with crystal and 10,000 seed pearls from the U.S. and topped it off with ivory duchesse satin high-heeled sandals, trimmed with silver and seed pearl buckles. (Maybe we should have said 'bottomed' it off.)
Amazingly, the then Princess Elizabeth, didn't try on her gown until the day of her wedding! Luckily, it fit her like a glove. Whew! (By contrast, Ms. Lopez's gown fit her like a second skin.)
According to Town and Country Magazine, the price of the Queen's gown was $37,000, and it's a beauty. May Queen Elizabeth II rest in peace. Take a few minutes and watch the recap of her glorious wedding day below.
Now when it comes to your wedding reception, there's a simple and affordable way to celebrate like a queen: it's all about the entertainment. Contemporary weddings are very much defined by fun. And that's what Columbus Pro DJs offers: DJ entertainment; decor lighting; and photo booth. In other words: Fun, fun, fun! Check availability today without obligation.